Risk Management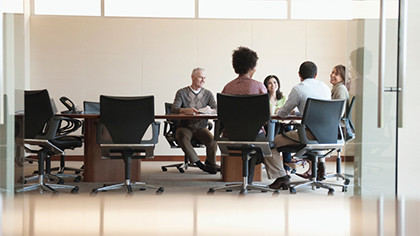 Risk Management careers are some of the fastest growing in financial services. BOK Financial is committed to all areas of risk management, which means excellent career opportunities are available for professionals in this area. Our team is on the front line, keeping our clients and applications safe and secure.

There are currently no open positions matching this category or location.
Receive emails by subscribing to jobs matching Risk Management when they are posted.
The 10 most recent jobs posted by BOK Financial are listed below for your convenience.
Search results for "".
Title
Location
Date
Private Banker IV

Denver, CO, US

Apr 30, 2017

0.00 mi

Wealth Management

Full Time

CO

Kansas-City-Client-Advisor-MO-64101

Director, Corporate Audit

Tulsa, OK, US

Apr 30, 2017

0.00 mi

Internal Audit

Full Time

OK

Tulsa-Director%2C-Corporate-Audit-OK-74101

Technical Business Analyst III (Wealth Management Technology)

Tulsa, OK, US

Apr 30, 2017

0.00 mi

Information Technology

Full Time

OK

Tulsa-Technical-Business-Analyst-III-%28Wealth-Management-Technology%29-OK-74101

Private Banker IV

Houston, TX, US

Apr 29, 2017

0.00 mi

Wealth Management

Full Time

TX

Houston-Private-Banker-IV-TX-77001

Senior Corporate Accountant

Tulsa, OK, US

Apr 29, 2017

0.00 mi

Finance & Administration

Full Time

OK

Tulsa-Senior-Corporate-Accountant-OK-74101

Investment Sales Officer III

Houston, TX, US

Apr 29, 2017

0.00 mi

Wealth Management

Full Time

TX

San-Antonio-Investment-Sales-Officer-III-TX-78201

Relationship Banker (Bentonville)

Bentonville, AR, US

Apr 29, 2017

0.00 mi

Consumer Banking

Full Time

AR

Bentonville-Relationship-Banker-%28Bentonville%29-AR-72712

Project Manager II - TransFund

Tulsa, OK, US

Apr 28, 2017

0.00 mi

Transfund

Full Time

OK

Tulsa-Project-Manager-II-TransFund-OK-74101

Executive Assistant

Tulsa, OK, US

Apr 28, 2017

0.00 mi

Bank Operations,Information Technology

Full Time

OK

Tulsa-Executive-Assistant-OK-74101

Senior Recruiting Coordinator

Tulsa, OK, US

Apr 28, 2017

0.00 mi

Human Resources

Full Time

OK

Tulsa-Senior-Recruiting-Coordinator-OK-74101