Internal Audit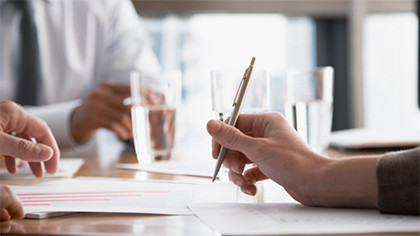 BOK Financial's Internal Audit division supports every function of the bank. If you'd like to apply your leadership, knowledge and expertise to support the goals of BOK Financial, then we encourage you to explore our Internal Audit jobs.

There are currently no open positions matching this category or location.
Receive emails by subscribing to jobs matching Internal Audit when they are posted.
The 10 most recent jobs posted by BOK Financial are listed below for your convenience.
Search results for "".
Title
Location
Date
Retail Mortgage Loan Originator - Houston

Houston, TX, US

Apr 26, 2018

0.00 mi

Mortgage Banking

Full Time

TX

Houston-Mortgage-Banker-Galleria-TX-77001

Relationship Associate IV

Houston, TX, US

Apr 26, 2018

0.00 mi

Wealth Management

Full Time

TX

Houston-Relationship-Associate-IV-TX-77001

Expressbank Consumer Product Specialist

Tulsa, OK, US

Apr 26, 2018

0.00 mi

Consumer Banking

Full Time

OK

Tulsa-Expressbank-Consumer-Product-Specialist-OK-74101

Credit Prod Underwriter II - Energy

Dallas, TX, US

Apr 26, 2018

0.00 mi

Commercial Banking

Full Time

TX

Dallas-Credit-Prod-Underwriter-II-Energy-TX-75201

Commercial Real Estate Loan Admin

Scottsdale, AZ, US

Apr 26, 2018

0.00 mi

Commercial Banking

Full Time

AZ

Scottsdale-Commercial-Real-Estate-Loan-Admin-AZ-85250

Retirement Plan Services Ops Specialist II

Tulsa, OK, US

Apr 26, 2018

0.00 mi

Bank Operations

Full Time

OK

Tulsa-Retirement-Plan-Services-Ops-Specialist-II-OK-74101

System Specialist I

Midwest City, OK, US

Apr 26, 2018

0.00 mi

Bank Operations

Full Time

OK

Midwest-City-System-Specialist-I-OK-73110

Mgr, BOKM Loan Servicing Ops Support

Tulsa, OK, US

Apr 26, 2018

0.00 mi

Mortgage Banking

Full Time

OK

Tulsa-Mgr%2C-BOKM-Loan-Servicing-Ops-Support-OK-74101

Mortgage Operations Risk Manager

Tulsa, OK, US

Apr 25, 2018

0.00 mi

Mortgage Banking

Full Time

OK

Tulsa-Mortgage-Operations-Risk-Manager-OK-74101

Retail Mortgage Loan Originator - Phoenix

Phoenix, AZ, US

Apr 25, 2018

0.00 mi

Mortgage Banking

Full Time

AZ

Phoenix-Mortgage-Banker-Phoenix-AZ-85001